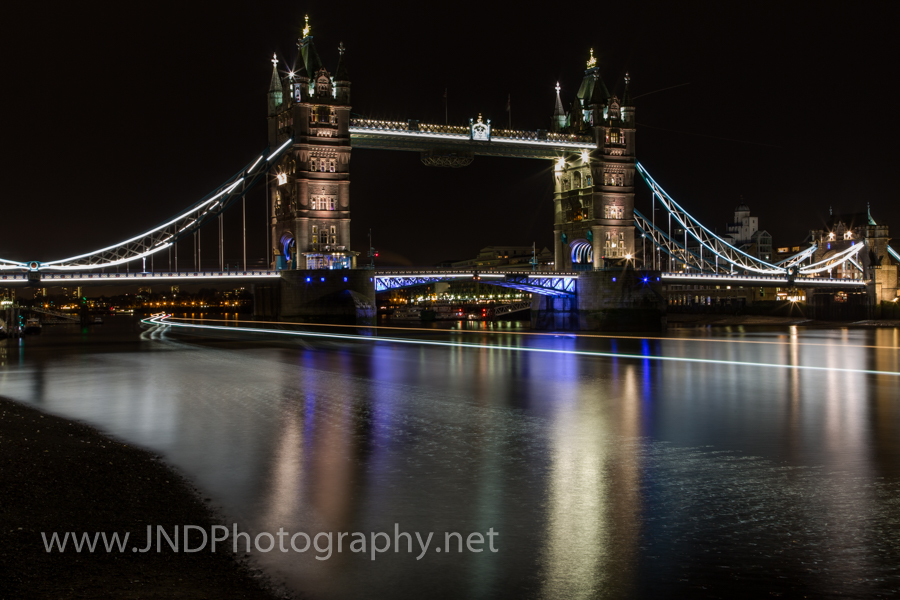 Tower Bridge with Boat Trails
My first international flight as a passenger was from Chicago to London.

I had just moved to Chicago as my first domicile out of training with the airline.
After a stretch of several days of flying, instead of going back home after my last flight, I hopped on another plane bound for London. I had two days to see it all. I discovered what "Mind the Gap" was all about through several rides on the tube, and hitched a ride on several double-decker buses whilst on the lookout for Morrissey. In between, I wore out a pair of shoes and several layers of skin on the soles of my feet. It was the best of times and I did it on the shoestring budget of a first-year regional airline pilot.
I documented this trip with a Sony point-and-shoot digital camera. It was my first exposure to travel photography. I caught the shutter bug and I knew I would have a relapse.
I was certain at some point in time I would return, take my time and do this wonderful place justice through photos as best I could.
This year I was fortunate enough to have that opportunity.

This Photograph of the Tower Bridge is a nearly 3-minute exposure. What I really love about this photo is that it picks up the busy boat traffic on the Thames River in the form of light trails. These trails appear as if floating above the river. In addition, in the distance, the reflections of the trails are duplicated on the water's surface.

The Tower Bridge itself is a thing of beauty and an engineering marvel. The dramatic lighting on the bridge adds to the mystique.
When I think of London and all of its grandeur, this photo sums it up for me.

I hope this photo inspires you to visit if you have never been to London. If you have spent time there, I hope this brings back fond memories as it does for me.

To see this photo in my online gallery in all of its forms from Metallic prints, to greeting cards and everything in between, please click the button "View in Gallery"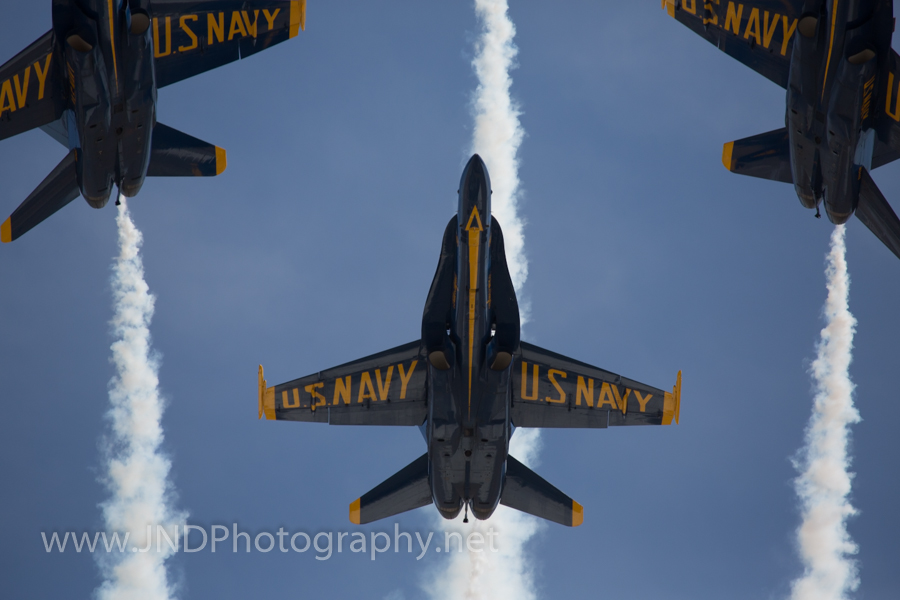 Blue Angels Overhead Break Closeup
Spring is here! That means that it is once again (after a year's hiatus due to budget cuts) airshow season!
This is one of our latest photographs taken at the LA County Air Show on Friday March 21, 2014. The diamond formation flew directly over the crowd and performed a break. This shot is a closeup using a 100-400mm variable zoom lens. I brought the lens to 365 mmm to fill the frame with the number 4 (slot) plane in the center. This aircraft is piloted by USMC Capt Brandon Cordill. The right wing (upper left side of the frame) is piloted by USN LCDR John Hiltz. The left wing (upper right side of frame) is piloted by USN LCDR Nate Barton. Leading the diamond (not in the frame) is USN CDR Thomas Frosch.
My fascination with flying started when I was very young. I remember going to an air show at Pt Mugu Naval Air Station near my hometown of Oxnard, California. I was in awe at how precisely the pilots flew their aircraft. As I watched that show I decided that day that I wanted to be a pilot.
I am honored to bring this photograph into our spotlight this month. It's my way of saying thank you for inspiring me. Thank you for setting a high standard to excel not only in my flying but in everything I do. I hope this photograph captures that feeling for you too.

Photo specs:
Canon 5D Mk III
f 7.1 1/3200 sec 365 mm ISO: 400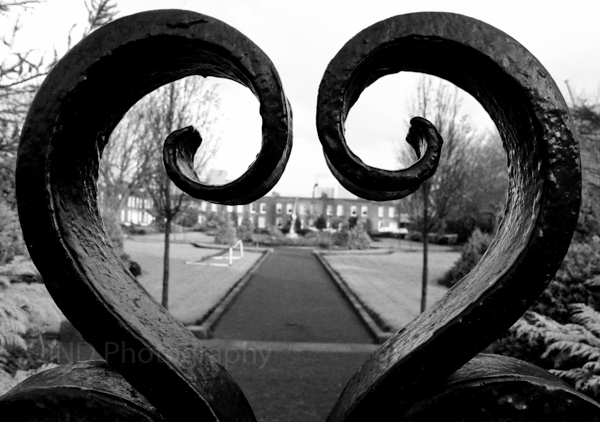 The Heart of Dublin
For December, I would like to put the spotlight on "The Heart of Dublin".
For me, this photograph symbolizes what this season is all about- love.
This was the first photograph on an international trip that I took with my first real camera. When I say that, I mean that it was the first Digital SLR that I ever owned- no more auto mode for me. I was learning my chops now!
The Canon T1i was a wedding gift from my wife and the first trip that we took with the camera.
On our first morning in Dublin, we took a walk in the chilly Irish morning towards downtown. We passed by a school that was surrounded with a wrought iron fence. As we approached the entryway, the top of the gate just captured my eye. The two gates, when closed, formed an ornate heart. I used the heart to frame the scene. In the background is a pathway leading to the school and in the yard is a soccer goalpost. The heart is in sharp focus. I used a medium aperture setting to achieve this while still preserving some detail in the background.

For me, this photograph is a symbol of the love my wife showed for me in getting such a thoughtful gift. It was a gift that showed not only how well she knew me, but also showed a belief in my desire to pursue photography at a professional level.

Most recently, this photograph was given to our family members in remembrance of my Great Aunt "Auntie" Charlotte. I think it symbolizes her unconditional love for all of her "kids". She was an amazing human being. Anyone that knew her was the better for it.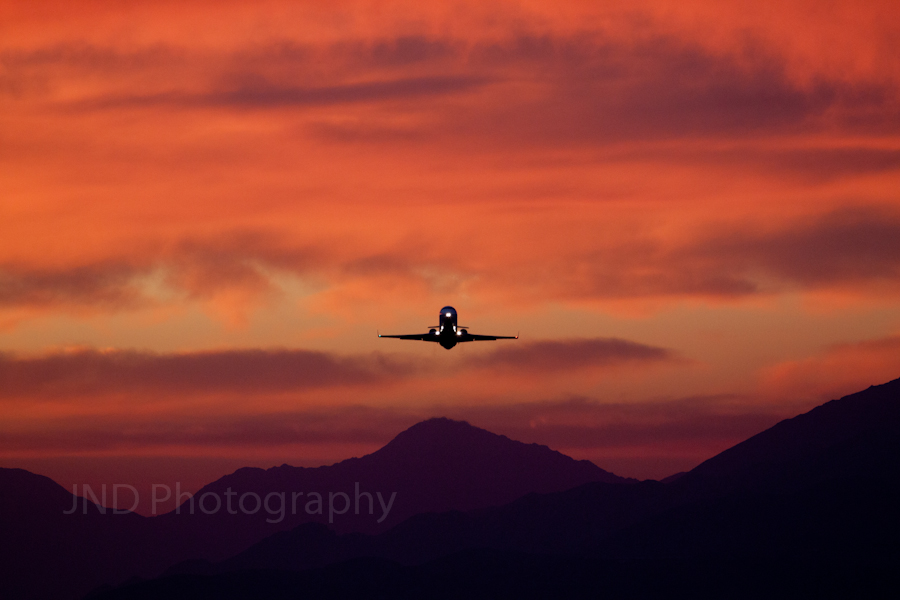 Sunrise Takeoff
This is the photograph that started it all!
On a January morning, I got up around 4 am before the sunrise to try my (fairly) new 70-200 mm lens on the Canon T-1i body. Being a pilot based in Palm Springs where this shot was taken, I knew exactly where to position myself so I could get a shot of a CRJ-200 lifting off and climbing into the desert sky. I positioned myself right down the extended center line of runway 31L. I metered the sky to just slightly underexpose it- bringing out the deep red and orange hues. I also knew that with the back lighting this would create the aircraft in silhouette. With the right balance of aperture, shutter speed (I would need a very steady hand for the low light), and ISO I would be able to capture the photograph I envisioned that morning. As the CRJ-200 rolled onto the runway, accelerated for take off, and lifted off, I held my breath to steady my hands as I clicked away. As the RJ flew overhead and on its way to Salt Lake City, I took a look at the LCD preview screen and saw what's before you.
A few days later, I took a large print of Sunrise Takeoff in for professional framing. The framing expert (who is also a painter) told me that she thought I should start a business. She had other people take a look at my work and they encouraged me to do so as well.
It was the push I needed.
J N D Photography was formed that day in January of 2012.
So although this photograph is one of my favorites since it involves both landscape and aviation in one photograph. It is also symbolic for me.
It signifies a new beginning.